Are you into cafe racers?
Do you like Amsterdam?
A fan of Tintin perhaps?
If any of this applies to you, this t-shirt is for you! And if all three – it's clearly a must-have! 😎
You will love the 'Klare Lijn' drawing – so in the style made famous by Hergé, the creator of Tintin – on the back of the shirt. It shows the Hard Motos cafe racer, which is inspired by the Ducati 750 that was driven to victory by Paul Smart at Imola in the early 1970s. We also see the rider from the back, 3 crossed wrenches in red on his leathers – Hard Motos' interpretation of the Amsterdam coat of arms.
Tintin did ride a motorcycle on occasion, for instance in 'King Ottokar's Sceptre' (1939), where he stole and then crashed a bike, all in jacket and knickerbocker…

We prefer full leathers, helmet, boots and gloves – certainly when we take the cafe racer to the track!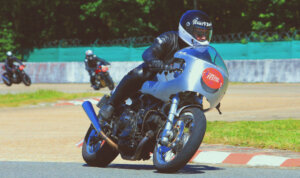 B

ack to the t-shirt; so the caferacer is on the back and you will find the Hard Motos logo on the front of this 100% organic and fairly produced shirt, available in all sizes from XS women's to XXL men's.
So get your own Klare lijn cafe racer shirt to show off what you like this summer – cafe racers, Amsterdam, Tintin – or all three!